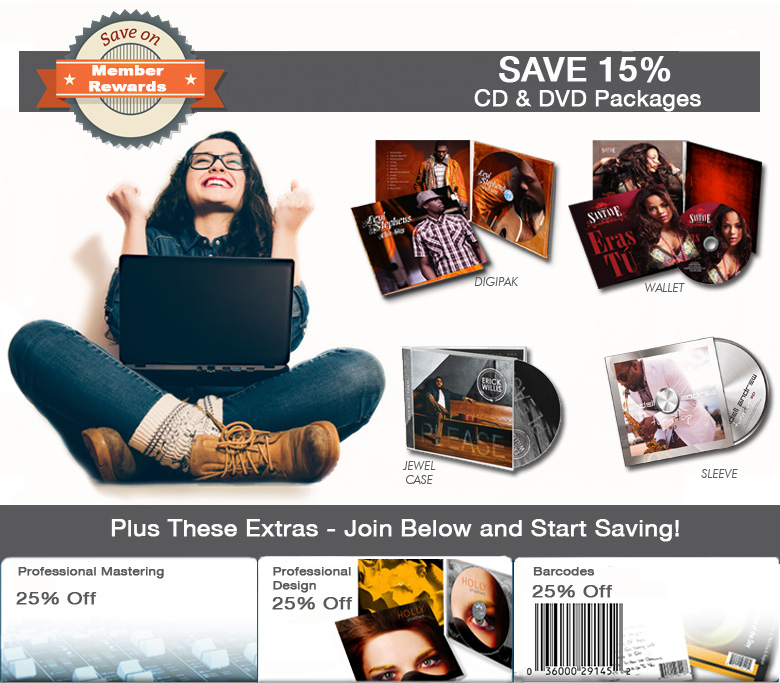 NationWide Disc Member Rewards
Get all of these benefits just by joining!* Once you become a rewards member, benefits are automatically available when you are logged in to your NationWide Disc account!*
In order to begin saving with program benefits, you must first sign up for the member rewards program from this page. After signing up, you will immediately become a member and automatically start saving on future orders of qualifying products!
*You will receive 25% off regular priced design, mastering services, and barcodes (excludes sale prices for these products and services). PLUS, you will get 15% off regular priced CD and DVD Duplication and Replication packages that include Digipaks, Wallets, printed Sleeves, Jewel Cases, and some Amaray products (discount does not apply to accelerated production times, sale prices, shipping, sales taxes, or some large quantities for these products). Other features, items, products, or service not mentioned here but that are included in the package being purchased may or may not receive a discount at the sole discretion of Nationwide Disc. Customers must use Nationwide Disc's standard shipping to qualify for these discounts, no shipping allowed on customer UPS, FedEx, or other shipping/courier style accounts. Program may end at any time without notice and may also change without notice. Not all packaged products qualify for discounts. Nationwide Disc reserves the right to withdraw, modify, or eliminate this program or a customer's participation in the program at any time without notice. If you have a question that is not addressed here please contact us at 866.704.3579 or
information@nationwidedisc.com
.